Ski Himalayas 12 Days Excitement, adventure and snow sports
Prepare for an action packed India travel skiing tour. Stay at cozy ski lodges in Gulag for downhill skiing, with miles of ski trails. When you are not on your ski trails, stay at a deluxe houseboat on the beautiful lake, equipped with all modern facilities and heated with wood-burning and gas heaters. Cruise aboard romantic Shiokara and experience the enchanting Mogul gardens. Ski the Himalayas in Gulag, world's highest slopes. You can also enjoy other winter sports of your choice, skiing, snowmobiling, ice hockey, or snow-boarding. This bears no comparison to Colorado ski resorts. Himalayan skiing is a very unique winter sports experience at one of the best ski resorts. You will conclude this trip with a breath taking experience at the Taj Mahal. This will be your most memorable ski vacation.
Day I NEW YORK/DELHI: Welcome aboard your flight to Delhi, enjoy onboard hospitality.

Day 2 DELHI:
This evening arrive in Delhi, where you'll be received and escorted to Hotel Park/ Hotel Claridges.

Day 3 DELHI: After breakfast you'll visit the Presidential Palace, Parliament House, India Gate, Qutab Minar Tower, Jantar Mantar, and the fashionable Connaught Circus. Red Fort, Chandni Chowk, Mahalaxmi Temple and Mahatma Gandhi Samadhi.

Day 4 DELHI/SRINAGAR:
Fly to Srinagar upon arrival you will be escorted to deluxe houseboat. Enjoy the cosy ambience and acclimatize to 5,600 ft. altitude in the valley. Afternoon at leisure. Enjoy the Himalayan panoramas from your houseboat.

Day 5-6-7 GULMARG, Skiing:
Today travel by car to Gulmarg, world class resort at 9,500ft.and flanked by Nanga-Parbat, a 24,500ft.peak. Gulmarg's natural slopes turn into the premier skiing resort. Among the multitudes of slopes, there are a few which are serviced by ski lifts and gondolas. Most of the skiing becomes centered on these slopes, with ski runs ranging from 500 yards to 4 miles. Skiing equipment is provided. Stay at hotel Hilltop/ Royal Park are minutes from ski lifts and gondolas. Enjoy 3 days of skiing and other winter sports of your choice.

Day 8 GULMARG/SRINAGAR:
After a leisurely breakfast, you have plenty of time to go skiing or snow mobiling. After lunch we will drive back to Srinagar and Return to your cozy houseboat for overnight stay.

Day 9 SRINAGAR (Gardens and old city):
Cruise through Dal and Nagin Lakes float through a network of canals to the enchanted Mogul gardens of Nishat and Shalimar built in the 16th C. by Moghul emperors.

Day 10 SRINAGAR/DELHI/AGRA:
This morning fly to Delhi and drive directly to Agra, home city of the famous Taj Mahal. Hotel Taj View/ Clark's Shiraz.

Day 11 AGRA/DELHI:
Taj Mahal. Visit Taj Mahal, the most extravagant monument ever built for love. On the death of his beloved wife Mumtaz Mahal, Mogul Emperor Shah Jehan built her this memorial over which 20,000 men labored for 22 years to create a masterpiece in white marble inlaid with semi-precious stones. Agra Fort where Shah Jehan spent the last years of his life, imprisoned by his son Aurangzeb. The most impressive part of the Fort are the Dewan-e-Am, Hall of Public Audience where the Emperor met officials and listened to petitioners, and the Dewan-e-Khas Hall of Private Audience where he received foreign dignitaries. The Peacock throne (now in Iran) was in this fort, before being moved to Delhi by Emperor Aurangzeb. Return to Delhi, the majestic capital city of India. Delhi blends within its folds a great cultural variety of India: an unceasing range of activity. Time free to explore on your own, great for shopping and browsing. Hotel Grand/Claridges

Day 12 DELHI/NEW YORK:
Early morning departure from Delhi to New York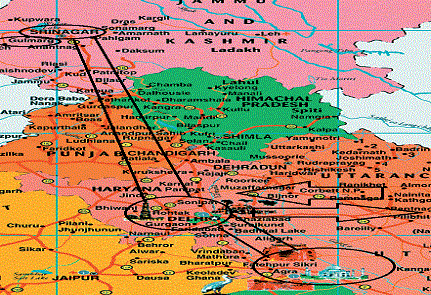 Click to enlarge









Kashmir Houseboat in winter





Your bedroom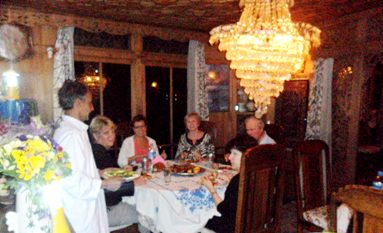 Dining at the houseboat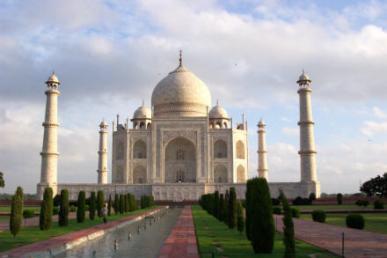 At Sunrise